We measure our successes in your child's smile.
From our Bumble Bee Room meet ...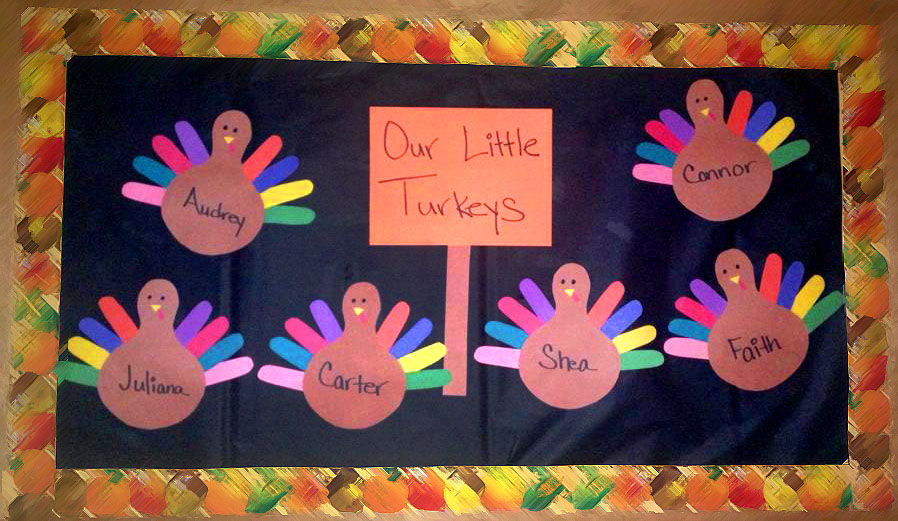 Kurious Kids Children Centers

Upcoming Events in November 2014
Monthly Theme:
Gobbling Up Manners
A Feast with Friends

NOVEMBER/2014

 November is a time for many families to get together, enjoy some good food, and remember the many things we can be thankful for. your own family feast.

Thanksgiving Facts:

By the fall of 1621 only half of the pilgrims, who had sailed on the Mayflower, survived. The survivors, thankful to be alive, decided to give a thanksgiving feast.
The first Thanksgiving feast was held in the presence of ninety Wampanoag Indians and the Wampanoag chief, Massasoit, was also invited.
The first Thanksgiving celebration lasted three days.
Benjamin Franklin wanted the turkey to be the national bird of the United States.
Californians are the largest consumers of turkey in the United States.
The annual Macy's Thanksgiving Day Parade tradition began in the 1920's.

School Photos

NOVEMBER/2014

Dear Parents, Teddy Bear Portraits is excited to announce we will be at your child's center soon for Portrait Day!

New York Street - Tuesday November 11, 2014 @ 9:00am

Hobson Street  - Wednesday November 12, 2014 @ 9:00am

We will take professional, studio-quality portraits, and capture your child's personality in portraits that will last a lifetime. To ensure your child is photographed on Portrait Day, Fill out one

Portrait Participation Form

for your family and return it to your center Director, no pre-payment required.  If you have multiple children enrolled in the center, your children will be photographed together and individually.

How does the Teddy Bear Portrait Program Work? Portrait Day:

Our Photographers are professionally trained in children's photography and will take portraits of your child in multiple poses.  We also attend to last minute grooming such as, brushing hair and wiping noses.

Portrait Selection Day:

Two to Three weeks later, your finished portraits and an exclusive offer will be available at your Center on Portrait Selection Day.  You can view, purchase, take home and enjoy finished portraits on the same day!  Your Center Director will share details with you once the date is scheduled.

What do you need to do?

Complete, sign and return on Portrait Participation Form per family, no pre-payment required.  Without the form, your child's portrait package will not be printed and available for purchase on Portrait Selection Day.
Dress your child in their special Portrait Day attire.
View, purchase and take home your child's portraits on Portrait Selection Day!  Visa, MasterCard, Discover, Check, and Cash are accepted.

As a Teddy Bear Thank You, each child will receive a FREE comb and brush set on Portrait Day.  (no purchase necessary)

Teddy Bear Portraits is dedicated to delivering the highest level of quality, service, and professionalism.  Our devoted, professional team is enthusiastic about capturing the perfect memory for families to enjoy for years to come.

Sincerely,

The Teddy Bear Portraits Team.

Thought for the Month...

NOVEMBER/2014

"As we express our gratitude, we must never forget that the highest appreciation is not to utter words, but to live by them."

~John Fitzgerald Kennedy

Spare Clothing

NOVEMBER/2014

Fall is in full swing and we would like to make sure all of our children are prepared for outdoor play. Fresh air is vital to a child's development and it is important for all children to be able to get outside and use their gross motor skills on a daily basis. Unless the weather is extreme, we will be going outside every day.

Please make sure you bring in weather appropriate spare clothes for your child. They should have an extra pair of pants, an extra shirt, some socks and underwear. Also be sure to send along a coat, hat, and gloves as the weather gets colder.

 

Your Health

NOVEMBER/2014

PARENTS PLEASE TAKE ADVANTAGE OF THIS FREE SCREENING!!

 

Our school is participating in a state-of-the-art, FREE service that is being provided by the Center for Vision Loss at childcare centers across the area. For no cost, your child's vision can be tested by simply taking a picture of their eyes!

 

This screening will help diagnose current or potential vision issues that your child may have. We use the SPOT screening device and the entire screening takes place in the time it takes to snap a photograph!

It's a GREAT opportunity for parents with or without insurance to take preventive measures and invest in their child's eye health!More information can be obtained at...

http://www.spotvisionscreening.com/wa/

SIGN THE CONSENT FORM AND RETURN IT BY Friday 11/14

TO PARTICIPATE IN THIS WONDERFUL OPPORTUNITY!

Kids in the Kitchen

NOVEMBER/2014

Thanksgiving Turkey Cookies:

16.5 oz Pillsbury refrigerated sugar cookies.
16 oz chocolate creamy frosting.
Orange and black decorating icing.
Candy Corn.
Miniature candy-coated chocolate baking bits.

Instructions:

Heat oven to 350°F. Bake cookies as directed on roll. Cool for about 20 minutes. Spoon chocolate frosting into resealable food-storage plastic bag. Make small hole in bottom corner of bag. On each cookie, pipe frosting on outer edge of half of cookie. Arrange candy corn over frosting for turkey feathers. Then pipe orange icing onto each cookie to resemble thanksgiving turkey face and feet. Use orange icing to attach baking bits to turkey face for eyes. Pipe black gel on baking bits for centers of eyes. Turkey cookies is ready to serve.

http://blessedmom.hubpages.com/hub/Thanksgiving-Recipes-For-Kids

Keystone Stars

NOVEMBER/2014 Celebrate PA Promise for Children Month

Send a Thank You card to your child's teacher. Share with them how they are helping your child reach his/her promise and what you appreciate about them.     OR     Help your child write a Thank You note to his/her teacher. You can also take a picture or video of your Promise card and post it on the PA's Promise facebook or twitter pages (use #PAPromise) or submit it to the PA Promise for Children website. You can also mail copies to PA's Promise, 200 N. 3rd Street, 3rd Floor, Harrisburg, PA 17101. Also, send a picture of your Promise cards to the Northeast Regional Key so we can share them in our newsletter! Send your pictures to Beth Gambone at

bgambone@cscinc.org

.

November Donations

Thank you for your extreme generosity! The donations that are coming in are greatly appreciated. Remember to bring in your three November donations by Tuesday 11/4/2014.

Monthly Theme:

Gobbling Up Manners!

TUESDAY 11/4 -Monthly Donations  

WEDNESDAY 11/6 -Scholastic Due

TUESDAY 11/11 - PICTURE DAY 

                     NY- 9:00 am

  

WEDNESDAY 11/12 -PICTURE DAY

                Hobson -9:00am  

 

THURSDAY 11/13 - Pajama Day! 

 

WEEK OF 11/16 -Parent/Teacher Conferences Week

 

TUESDAY 11/18 -Vision Testing

                      NY - 9:30am   

 

WEDNESDAY 11/19

-Thanksgiving Feast!

THURSDAY 11/20

- Vision Testing Hobson - 10:00am

THURSDAY 11/20

-Lehigh Valley Candle Fundraiser Orders & Monies Due

THURSDAY 11/27 -HAPPY THANKSGIVING!

FRIDAY 11/28 - CENTER CLOSED

Menu

 

Join Us on Facebook

 

Parent / Teacher Conference

Parent / Teacher Conferences will be offered during the month of November.

More information will be coming out from your child's teacher.

Song Time

Hello Mr. Turkey!  

(If You're Happy and You Know It)

Hello Mr. Turkey, how are you? (clap, clap)

Hello Mr. Turkey, how are you? (clap, clap)

With a gobble, gobble, gobble and a wobble, wobble, wobble,

Hello Mr. Turkey, how are you? (clap, clap)

Did You Know?

This month we are selling Blue Mountain Candle Co. Candles

Attached here is a Lehigh Valley Candle Co. Fundraiser. Each candle will be sold for $13.00.

All orders and monies are due by Thursday, November 20th.

If you wish to fundraise please be sure to fill out the order form completely with your child's first and last name.

Delivery is will be the week of December 8th.

If you have any questions please let me know.

Thank You
Reminders to Parents 
PAYTON'S PROMISE-
Many of you have received information about our new initiative called Payton's Promise. If your child will not be at the center or will be arriving late, please call to inform your director. Please see your classroom teacher or director if you would like more information. We appreciate your cooperation and support.
EMAIL ADDRESSES- We have begun to distribute important information via email. Please make sure your most up to date email address is on file with the office. If you are not receiving emails, please let us know.
OUT SICK- Please be sure to call and notify the center if your child has been seen by a doctor and has been diagnosed with anything contagious. It is our responsibility to notify the parents of the children in your child's classroom in a timely manner.  Illness Policy
DONATIONS - We can always use donations of empty food boxes and dress up clothes for our dramatic play centers. And we are always looking for empty shoe boxes!
TUITION CHECKS - Remember, payment is due on the first day that your child attends the center for the week. We will start to assess late fees at $5 per day that payment is late. In the "memo" section of your check, please write the week that you are paying for along with your child's name (if the last names are different). If you are paying for particular days, please write that in the memo section as well. This is CRITICAL for book-keeping!
VACATION REQUESTS- If you are a full-time family and would like to use vacation days, please submit them in writing at least 2 weeks prior. Vacation days cannot be used for holidays or sick days.